News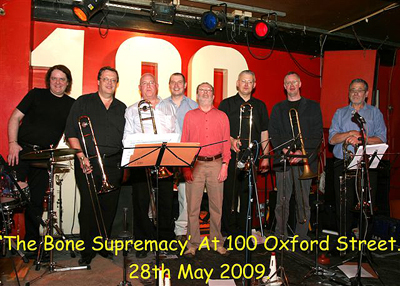 Photo courtesy of John Root / National Jazz Archive
Within barely a year of existence, we have already been voted runner-up in the best small band category of the British Jazz Awards. Mark Nightingale, Ian Bateman, Adrian Fry and Roy Williams all finished in the top four places for best Trombonist!! So, our forthcoming CD is full of award winners!
Did we mention CD?? Due to popular demand we have recently been in the studio to record our debut album sooner than we anticipated! This CD has been produced by Lake Records and features no less than three guests: Mark Nightingale, Alistair White and and with the inclusion of Roy Williams we're especially pleased to be able to pay tribute to Five-A-Slide. The CD is avialble from 14th March 2010. If you would like to purchase a copy please e-mail us with your details or buy it online. They cost £12.95 inc delivery. We already have a list of fans (and Trombonists) eager to get the first copies.
June 2009 saw our first visit to The Concorde Club in Eastleigh, Southampton where the band played to a capacity audience with guest Trombonist Alistair White making his first appearance with the band. We are returning on 24th March 2010, this time with Mark Nightingale as our guest. This date will be the official launch of our new CD. We are also putting in an appearance at the Lyme Regis Jazz Festival on June 3rd 2010.
We do get some interesting gigs from time to time, none more so than the wedding of 'David & Anna' last Summer. As both of them played the Trombone, who better than The Bone Supremacy for their wedding reception?.. well ... and the service: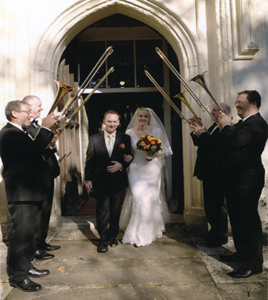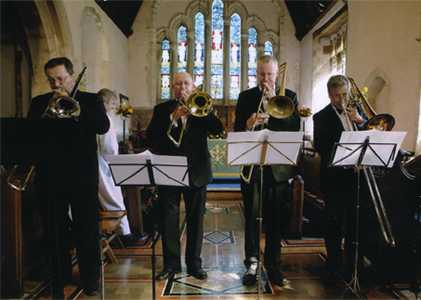 The push for work is now well and truly underway with several renowned UK jazz festivals about to feature the band. Check out the diary for the latest gigs...
Ian Bateman, March 2010