Andy Flaxman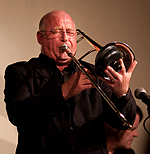 A strong character and an excellent leader of any trombone section, his playing cannot be faulted.
Since leaving the Coldstream Guards Band in 1997, Andy has toured extensively with
the Syd Lawrence Orchestra, The Glenn Miller Orchestra (UK), Paul Lacey's 'Back to Basie', Pete Long and the Len Phillips' Big Bands.
Andy is currently working as a freelance trombonist based in London, where recent theatre engagements have been in 'Sinatra' at the London Palladium, 'Guys and Dolls, Mary Poppins and The Lion King.
Recordings with the Charleston Chasers, Back to Basie, the Pete Long Orchestra, Michael Garrick's Orchestra and The Sonny Dee All Stars have ensured a regular
presence in studios as well as on the gig circuit.
Andy is also something of a Trombone guru, with members of the band often trying out trombones from his vast collection.
John Pearce - Piano
From 1975 to 1985 John was a member of Ray Ellington's Quartet working at leading London venues for residencies, as well as two world cruises and radio and TV work. During the same period he became a regular session player, working with the BBC Radio Orchestra, Jack Parnell's Orchestra, Robert Farnon, Billy May, as well as touring with the James Last Orchestra.
His jazz work has taken him all over the world, including a tour of the Blue Note Jazz Clubs in Japan. He has accompanied many singers, including Anita O'Day, Selina Jones, Peggy Lee, Elaine Delmar and Annie Ross, Mark Murphy and a multitude of instrumentalists: Dick Morrisey, Art Farmer, Woody Shaw, Kenny Davern, Warren Vache, Eddie Daniels, Ken Peplowski, Tommy Whittle and Ronnie Scott.
He has been a member of Scott Hamilton's Quartet since 2000, and has performed with Scott throughout Europe. He is one of Britain's most respected and versatile musicians and also one of our best kept secrets - listen to any of Scott's recent British recordings to hear the strength of his playing.
Adrian Fry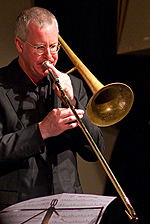 Adrian also regularly appears with many of the top bands in the UK, including The Karen Sharp Quintet, Frank Griffith Nonet, Stan Tracey Big Band, Don Weller Big Band, Michael Garrick Big Band and the Back To Basie Orchestra. He also deps regulary with the Alan Barnes Octet, Acker Bilk and his Paramount Jazz Band, Pete Long's various ensembles and the Ray Gelato Giants.
Adrian is also involved in commercial music with names such as Elio Pace, Shakin' Stevens and Incognito.
Adrian is not only a top Trombonist but is one of the UK's finest jazz composers and arrangers. Half of the Back To Basie Orchestra's library has been meticulously transcribed by Adrian (the other half being original music), one of the reasons the Orchestra wins the best Big band award year after year.
Jerome Davies - Bass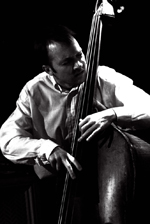 Now working as a freelance musician based in London, Jerome performs in a wide range of musical styles and on a variety of instruments but with the core of his work being on the double bass.
As well as regular UK based work, he has toured internationally and performed at festivals, clubs and concert venues across the world.
For three years Jerome was the regular bassist with American singer Salena Jones and for a period was also her musical director. With Salena he toured Japan four times, appeared at the Blue Note club in New York and recorded a CD for JVC at their Tokyo studios.
For several years Jerome was working with the Paris based vocalist Caroline Nin performing in Europe and for two consecutive years at the Adelaide International Cabaret festival.
Other artists/bands that Jerome has performed with include Clare Teal, Tim Richards Great Spirit, Boisdale Blue Rhythm Band, The Westminster Philharmonic, Blue Harlem, Echoes of Ellington, Simon Warner, Tommaso Starace, David Ogilvy, The Funky Muchachos, Juliet Kelly, and The National Screen Orchestra of which he is musical director.
Ian Bateman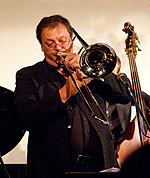 From Swindon in Wiltshire, Ian has a career behind him which now spans over 30 years. He currently can be seen with the bands of Acker Bilk, Back To Basie, Andy Cooper Euro Top 8, Sticky Wicket and his own bands Kick Ass Brass and the JJ Johnson / Frank Rosolino Tribute Quintet. He has also been seen with every major jazz band in Europe, including Kenny Ball, Humphrey Lyttelton, Dutch Swing College, Pasadena Roof Orchestra, Rod Mason and Terry Lightfoot. You may also have seen Ian at Ronnie Scott's in recent years with the Ronnie Scott's Big Band and top LA Salsa artist Leslie Paula.
Ian first hit the scene with the National Youth Jazz Orchestra and was one of the few who continued his career as a jazz musician. He has spent most of his career with the top traditional / dixieland jazz bands, but re-entered the big band department with the formation of the Back To Basie Orchestra in 2001. This has opened new doors for Ian and he is now equally at home playing all kinds of jazz with many different musicians such as Alan Barnes, Alex Garnett and regularly appears at the Norwich Jazz Party with the best jazz musicians from around the world and most notably fellow trombonists Dan Barrett and George Masso.
Peter Cater - Drums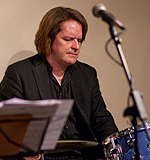 Peter Cater is best known for his superb big band which is currently playing the Buddy Rich repertoire. He has played with virtually every big band in the UK.
The son of a drummer and grandson of a saxophonist and bandleader, jazz certainly runs through Peter's veins! He has worked with USA legends Eddie 'Lockjaw' Davis, Benny Carter, Barney Kessel, Harry 'Sweets' Edison and Nat Pierce. Elaine Delmar, Ronnie Scott, John Dankworth and Humphrey Lyttelton have also had Peter play with them.
"A gifted and versatile drummer, at home in any context..." Rough Guide To Jazz
Chris Gower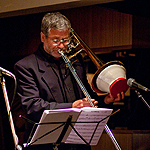 Chris is currently playing Trombone with The Best Of British jazz band and Digby Fairweather's Half-Dozen. Chris is another excellent lead trombone player but is equally at home on Bass Trombone.
Chris's career has been quite diverse. Although influenced by the great British players like Chris Barber and George Chisholm, he is also a big fan of modern jazz and sould music. His career took him however along the pop music path where he played regularly with Shakin' Stevens and Suzi Quatro amongst others no less!
Once back in the jazz idiom, Chris was regularly seen with the BBC Radio Big Band and the Syd Lawrence Orchestra.
The 5th Man!
Last but by no means least, we have broken with tradition and decided not to appoint a permanent 5th Trombonist. This of course may change, but for the time being we have left it open so that we can feature guest Trombonists.
The following guest trombonists have appeared with The Bone Supremacy to date:
Mark Nightingale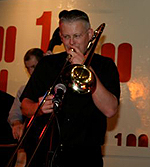 Alistair White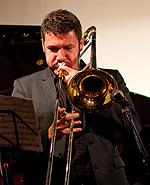 Mark Bassey